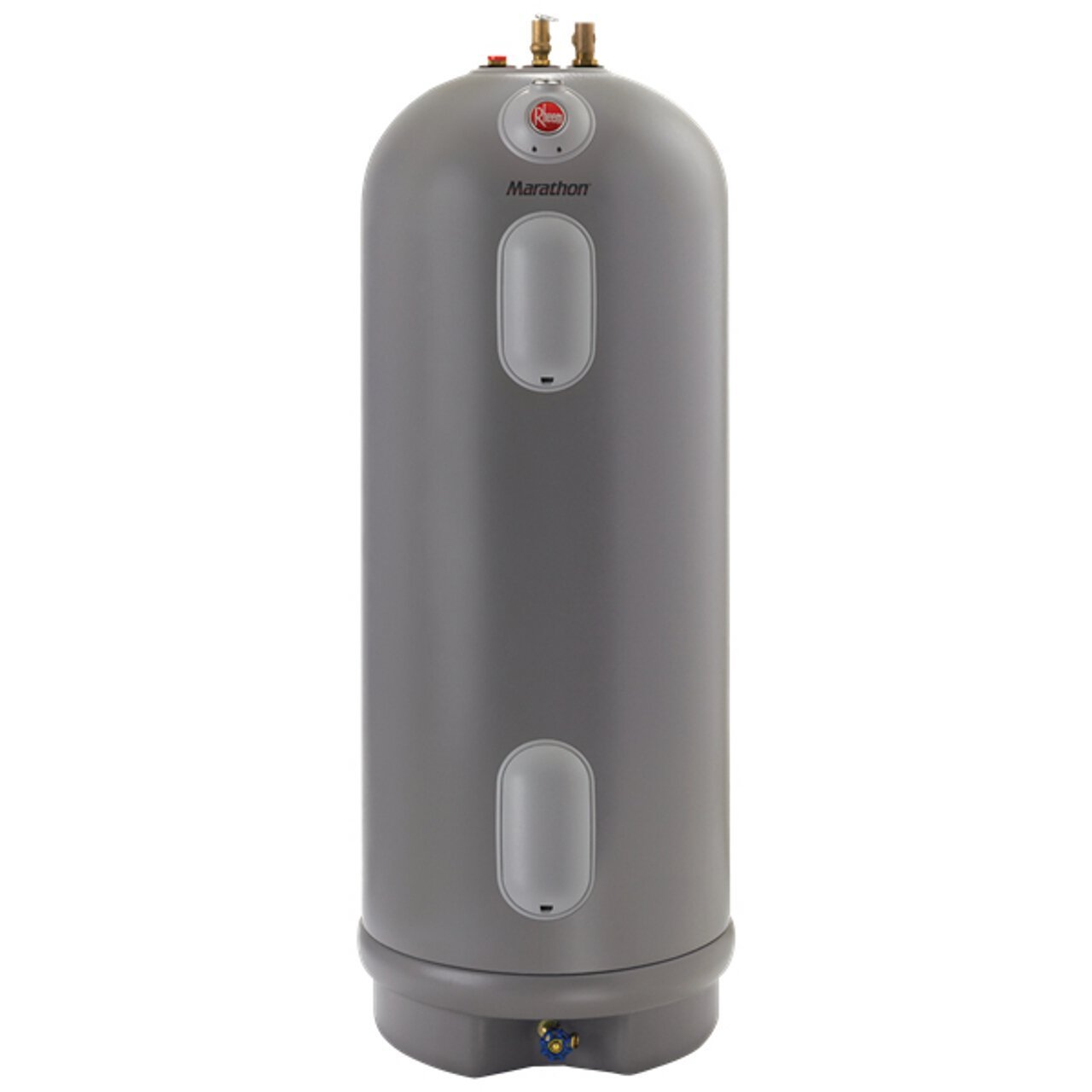 So I was in a house the other day replacing a toilet and I went down into the basement to shut off their water is the water supply for the toilet is not operational and lo and behold I saw they water heater that I have never installed personally before but have seen in the supply house. This was a 50 gallon ream marathon electric hot water heater! I have wanted to install one for as long as I have known about them but because they do cost a bit more than other electric water heaters not many people purchase them so I was really happy to be a look talk to the homeowner about his experience with this water heater and just how much he loved.
Let me describe benefits and features this water heater and why I would recommend it to anybody who just wants to stick with an electric textile water heater.
Cutaway of the Rheem Marathon 50 Gallon Electric Water Heater
Features:
" high efficiency. This unit has 2 1/2 to 3 inches of polyurethane foam insulation surrounding the tank which allows only lose 5° temperature in 24 hours!
" The energy rating on this is .95% which is credible for a textile water heater and probably is owing to the amount of insulation around the tank which I previously mentioned
" lifetime tank warranty. This tank is built to last as long as you and your home which gives the plumber and homeowner the benefit of never having to replace it
" the tank is nonmetallic so it will not Ruster corrode therefore there is also no anode rod required as in most water heaters.
" The outer tank is also made a very tough polyethylene that is resistant to scratches and dents
" water heater is so lightweight due to the fact that is made of plastic and fiberglass one man can install this unit by themselves also it features a bowl shaped tank bottom that drains completely so if you drain a service the unit regularly there will be no build up of debris in the bottom of the heater
-recessed drain valve. The drain caulk on the bottom of the water heater is recessed in words so that does not stick out making it impossible for somebody to kick and break it or hit it with a tool or something of that nature
" an energy-saving pipe wrap kit is included with this heater to make it even more efficient
Rheem 50 Gallon MR50245 Tall Electric Water Heater
Benefits to the plumber and homeowner:
This water heater is pretty much a dream come true for the homeowner and plumber both for many reasons. The tank is made of plastic fiberglass and has a polyethylene jacket which makes it incredibly tough and incredibly light so that one plumber can install this unit by themselves. It is incredibly efficient with the 2 1/2 to 3 inches of insulation inside the jacket giving it an efficiency factor of 95%. Once again happy homeowner,  happy plumber. The water heater is very resistant to corrosion the electrodes are made out of titanium so they are resistant to scale buildup, and the electrodes are very easy to get to on the outside of the tank.
This should literally with the limited lifetime warranty the last water heater you should ever have to buy this is the average lifetime of the heater is 6 to 10 years you can imagine that in your lifetime you'll probably replace 4 to 5 of them. Now if you consider the cost of the average heater to be $400 and you will probably replace five of them in your lifetime that is $2000 the out the door cost of the ream marathon heater on Amazon is $1042 so you are easily going to save thousand dollars in the course of your life just by investing in this heater.
As as per usual I am going to rate this water heater based on combined input of my local customer and the reviews on Amazon. The local customer that I went to speak with the other day when I changed at his toilet had nothing but good things to say about his ream marathon electric water heater. And in fact when I asked him what star rating he would give it he rated at five.
However out of the 31 customer reviews on Amazon they are only giving this water heater 3.5 star rating out of five mainly due to some misunderstandings and installation problems that a few of the customers had. I don't feel that is a fair rating whatsoever so I am going to give this ream marathon electric water heater a 4 1/2 star rating based on my knowledge of ream is a company, my client who owns one of these water heaters, and the overall views of the Amazon customer base. So I would highly recommend you look into this water heater, you can follow link here to check this out for yourself by pasting that link into your browser. Thank you for reading another one of my water heater reviews and I hope you'll continue to read in the future.