One of the key ideas for the next fifty years is resilience. It is a growing web meme. Resilience is a term that began life as a way of describing the life cycle of developing and declining eco-cultures. it has since passed into political dialogue.
One of the key ideas for creating greater resilience is local fabrication and that's what we are interested in, in this post. You might think that sounds obscure (local? fabrication?) or you may already aspire to make your own Nike trainers at home, instead of paying $100 for them, a, to travel a long way and b, to look like everyone else's Nikes.
Fans of ideas like "local fab" can follow up with Neil Gershenfeld's work. Neil is a well known academic from MIT but the great thing about his thinking is it applies to Mumbai and to Manchester as well as to the village and the home.
In the near future, we will be able to make many things locally that we now depend on acquiring from elsewhere. I am looking forward to making my first car. Follow this link to one of a number of art projects that use digital fabrication to highlight the potential beauty and complexity of locally fabricated artifacts.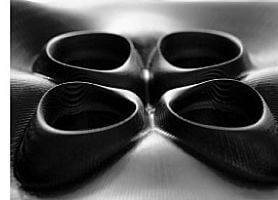 Consider too that local fabrication and resilience are being enabled, first via microfinance and now via digital fabrication, building objects digitally and then fabricating automatically from that. Poverty has helped us find new ways to design and fabricate (the $100 computer movement surely gave us the $200 netbook and who knows what will happen to autos now there is the $2500 Nano). The $7 baby incubator is already out there in the field (Western versions cost $20,000)
In principle the local fabrication network has precedents in local print shops here in the West, which were taken away from the locality and were then brought back (via franchises such as SNAP and Prontoprint).
From a brand point of view the apparent downside of local fabrication is either you resist and lose customers or you let people play around with your products and lose brand integrity. The idea that anybody can interfere with your product's design and appearance has been brand anathema even though people have configured products forever (for example by hacking spoilers onto cars).
When Adidas commissioned an ethnographic study of online basketball shoe communities they found that most basketball shoe fans customised them anyway. Adidas now sells basketball customisation kits!
At the start of the skating phenomenon kids bought boards for $70. They now buy for $15-40 and customise. Sites like boardpushers.com have hollowed out the market for brand ads in Skating magazines, an early casualty of Skating customization.
The lesson for marketing is that brands too can be hollowed out by services that play to customers' desire to express rich intent. And expression is becoming more important. It is not simply that people want to be in control, but that they are also eager to by-pass the brand in favor of creating highly personalised objects.
In the broader transition reflected in Metatrends, "personalization" is migrating production towards the local level and potentially contributing to what John Robb calls Community resilience, the ability of communities to retain strong positive identities through local economic interactions (which tend also to be socially richer than distant ones).
The momentum towards great community-level economic activity based around personal behaviour and preferences is arriving from different directions (here is John discussing resilience through Transition Towns). Perhaps the most powerful of these, ultimately, because it segues so well with personalization, will be personal energy identities, a concept of the new energy measurement company AMEE.
AMEE aims to measure all energy consumption on earth, down to the footprint of each of us. A huge undertaking is a huge understatement. The most fertile concept that AMEE brings to the green world is the idea that we will all in future wear and share our energy identities.That in turn will provoke more consumption of product that expresses our identity (which we do anyway), for example installing waste pipe hydro plants at home (which we will want to do because our identities will be green).
At the same time the "make" and "craft revivals (hack, knit, adapt) are spurring on local fabrication technologies (see tinker.it for on way the online creativity is being parsed to an offline environment).
Added to this is the new and as yet little heralded open source hardware movement (see tinker.it partner Arduino and Chris Anderson's robotics open hardware company, hardware hacking (www.hackerbot.com and widespread iPhone hacking – the iPhone has 20% of the Chinese smartphone market despite not yet being available there).
The mantra, if I'm not in it I won't buy it, is hip for kids who like to splice a vid or two. Grown ups, we say: if I haven't hacked it or made it, I don't want it. And "if I can't see myself in it"doesn't have to be limited to YouTube and other media hack-hubs. Seeing myself in the future of the green agenda is cool too.