Launchers help us to  customize the home screen of our Android device as we want. Out of so many launchers in the Play Store, we selected top 4 according to public rating as well as their efficiency. Below are top 4 Android Launchers!
1. Buzz Launcher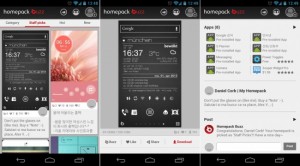 Buzz Launcher is a very cool launcher for your Android device which allows you to apply shared home screens to your Smartphone. With Buzz Launcher you can easily download, customize, share and create home screens. The app allows you to download home screens of your choice, innovate your device, and share your awesome home screen layouts with others!
With Buzz Launcher you can easily download home screens and apply to your device.  It provides you 1,00,000+ unique Home Screens to download via Homepack Buzz. You can see all the home packs in your  PC as well as Mobile on their site-> www.homepackbuzz.com. Its available for devices running on Android 4.0.3+.
2. Launcher 8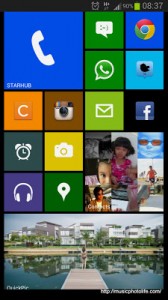 So, here is the second bomb shell launcher for your device which is similar to Windows 8. It allows you to get the fun and beauty of Windows 8, with its colors! Its a UI style launcher for your Android device.
Launcher packs some good features like you can add tiles of different sizes, you can add tiles of your favorite color, you can save and restore the themes, you can easily edit the start screen layout, you can switch the application list style, you can also add Android widgets in the tiles and much more!
3. Smart Launcher
The third one is here! It's a smart and innovative launcher for you with minimalist design, it allows you to launch any application in a few tiuches. The PRO version is consist secondary screen where you can place widgets. Plus point of the app is that it is ready to use without special configurations as well as it provides you custom live wallpaper support.
It supports every screen size and devices including Google TV too. It is designed to be easy to use and allows you to use it in landscape mode. Also there is an option to hide the status bar which can allow you to get more out of your screen.
4. Go Launcher EX
The last and the best is here. It's the choice of 100,000,000+ people! Best Android Launcher voted by users till now! Some free features of this launcher are that it provides you more than 10,000 personalized themes, the amount increases every month.
It provides you super smooth page turning effects with 3D core. More than 25 fancy transition effects. More than 15 widgets available for free like weather, clock, switch, calendar etc. You can launch applications using gestures. This app consists of two versions, paid and free.
The above were the Top Android Launchers for your Android Device according to use and votes of people. If you like anything else, don't forget to tell us in the comment section below!