This month I'm reviewing the Scandinavia Box from April. Overall, I am more in tune of the tastes of the Scandinavian snacks over the Chinese ones. I understand that these snacks aren't the most accurate portrayal of what people in these countries eat on a daily basis, but it gives a little hint at what they're tastes are.
For example, the wasabi crackers in the China Box point to a love of very spicy foods, and the sweet snacks in the Scandinavian box hint at a love for more traditional sweets. So far, I get really excited every time I receive an email telling me that my Universals Yums box has shipped each month. I am looking forward to Israel's snacks later this month, but for now I will break down Scandinavia.
Daim Toffee: According to the description card in the box, the Skor bar (a Hershey's candy) was a rip-off of Daim toffee. I found that these little candies were quite delicious. Personally, I've never even heard of a Skor bar, so I guess Sweden has a leg up on this one.
Salmiak Finnish Sweet Licorice: As you can see in the picture above, the box includes candies and cookies. There was nothing particularly disagreeable in this box except for the black licorice. Honestly, I'm just not a licorice fan in general, so there's no way I was going to like this stuff. Apparently Scandinavians love it. What ever floats your boat, as they say. I also find the packaging slightly unsettling.
Lars' Swedish Gingersnaps: The gingersnap cookies were OK. They tasted like a crispy gingerbread man without frosting or candy clothing. If you're in a pinch and craving that ginger-y sweetness, these are a great off-season alternative. God knows how hard it is to find a decent gingerbread man outside of December.
Geisha Milk Chocolate: These candies were one of my favorites. They're a smooth milk chocolate treat with hazelnut mixed in. Apparently these were inspired by a Japonica pastry made in a cafe in Helsinki. According the company's website (), the inventor Peter Fazer participated in the olympics in Tokyo and was inspired by Japan.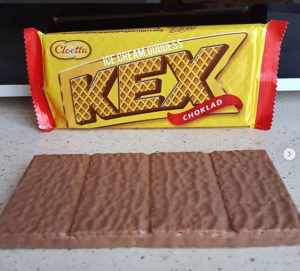 Kex Chocolate Wafers: The wafers were my other favorite item. They're Sweden delicious response to the KitKat. In some ways they're almost better than a KitKat because they're less sweet. I know that's sacrilegious, but it's real talk.
Dumle Soft Caramels: These were tasty like Rolos. I loved the description on the information card in the box: "In Sweden, this soft caramel chocolate candy is mainly eaten by children. There's a similar candy that is consumer by adults called 'Plopp'. However, only 5% of 'Plopp' candy is eaten outside of Sweden since the name 'Plopp' makes it seem very unappetizing to us English speakers!"
Marianne Chocolate Mints: The mints were pretty good because they also had chocolate in them. Are you seeing a common theme here? Definitely a region that loves their sweets and chocolate. I love the wrappers on these candies too, but I'm honestly getting more of a French vibe from them.
Stay tuned for more Universal Yums reviews in the future. Visit  to subscribe!