3 Great Free E-Commerce Storefronts
April 18, 2016
If you want to start your own virtual store out there on the Web, you don't have to go through all the hard work of setting up a shopping cart, lining up shippers, processing credit cards and all those other headaches that are often involved with e-commerce.  You could sign up with one of these free online storefronts instead.  while they might take a cut of the profits, in the long term – they might also save you money too.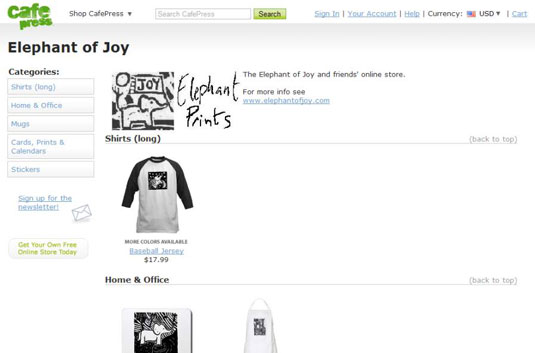 Cafe Press
Now Cafe Press is probably the one service I am the most familiar with so I will start with it first.  Back around Christmas time I used Cafe Press not to mass market my goods, but to instead create some simple Web hosting show swag to give away to friends and family members.  at Cafe Press you can create your own posters, mugs, tote bags, t-shirts, hoodies, hats, bumper stickers and more.  then, to make a little money – you just hike up their basic price for the goods you are selling.  anything extra made (minus the costs of the goods) is yours to keep.
Zazzle
Like Cafe Press, Zazzle is another online service that lets you set up a free online store in a matter of minutes.  All you have to do is upload your logos or images, decide what products you want to print them on, and then point people to the storefront URL.  they too have a large assortment of products to slap your image on, and their shipping is a little 'bit faster than Cafe Press too.
Lulu
Last, but not least I also wanted to mention Lulu.  This service is a little different in comparison to Zazzle and Cafe Press due to the fact that it is more focused towards printed works, like books and calendars.  You can set up the same free storefront interface, but Lulu gives you the tools you need to sell books, ebooks, calendars and photo books.  through Lulu, you can also distribute your book through place like Amazon, by getting an ISBN number. as soon as I get my next ebook done, I might very well be selling it through Lulu too.
All three of these services as great when it comes to giving you a unique way to sell your own goods and services online.  no matter if you just want to put your logo on a t-shirt, or you want to publish that book you have been writing.  if you have any more great online store tales or suggestions – be sure to leave them in the comments.