Before liquid lawn, and what we now have today as Hydro Mousse, the methods that people have used for many years to improve growth of grass in their yards was by means of spreading seed by hand or with a machine that disperses it evenly.
The main issue with spreading dry seed around a lawn is that the seed is in many cases either picked off by birds, washed away with rain, or becomes too dry to fertilize the intended areas. Continue on to read my review below.
My Review of Hydro Mousse
What makes Hydro Mousse better than the traditional methods?
Does it actually work?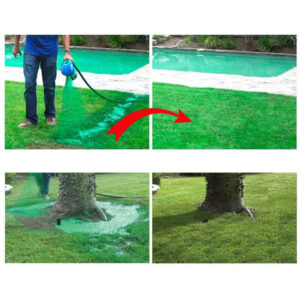 What I found when testing Hydro Mousse was that it was first off relatively uncomplicated and very easy to use. The mixture is already packaged and ready to go, all I had to add was water. When I usually drop seed on my grass I have to water it following to allow for the seed to  germinate. Not all seed would normally take root and work, however when I used Hydro Mousse I didn't have that issue. The slurry covered the area I wanted my grass to grow in, and it stuck which was very key in my opinion to the better success of growth.
Another thing I believe was important was that the sun couldn't scorch the area so easily because much of the moisture got locked in under the slurry which was kind of like a protective cover on the ground, allowing the seed to easily germinate. Originally I had considered getting some sod ordered and just putting in new patches of grass, but the cost was much higher than testing out other methods like Hydro Mousse.
The video advertisement I saw originally says that it works well on dog spots in your yard as well. Since I only have dead patches of grass I can only attest that it does work on those areas, but I would be inclined to believe that it would do just as well on a patch of dirt where an animal has traveled regularly as long as you keep your pet from traveling in that spot of your lawn for at least a couple weeks while Hydro Mousse grows grass in that area.
How Much Does Hydro Mousse Cost
I only paid $19.95 plus shipping and handling cost. Here is the official site I bought mine from here
What Hydro Mousse Liquid Lawn Sends You
The nozzle that you use to spray. I easily attaches to any standard garden hose. There is also a chamber where you can put the formula which mixes with your seed and water.
They also send you a 1/2 pound of premium grass seed blend. For maximum use you could buy additional seed to mix if you wanted too.
You also get the 20oz bottle of the Magic Mousse formula which is key to locking the seed in place and covering the areas you spray. This is enough formula to cover about 90-100 square feet of lawn area based on my experience.
Final Thoughts on Hydro Mousse
While I can't speak for everyone, I believe that Hydro Mousse will work for pretty much everyone that uses it. I had no problems, no messes, and all I did was follow the simple instructions, and let the nozzle mix the formula, seed and water, and my grass came in very nicely. It's definitely worth a look if you want to get a healthier looking lawn. You can purchase directly from the merchant by clicking here.